The price of framing can vary based on the materials that are used. We will ask you questions, then show you what we think works best with the art first. If it doesn't fit your budget, we can adjust the design. Keep in mind that you're going to be looking at this art for a long time.
Based on customer comments, our prices often are less than the large craft stores even AFTER their 50% off coupons.
The cost can vary depending on the materials you choose! If you bring in your work we will give you a free quote on a specific design. There is no cost to you to come into our shop and speak with one of our highly qualified framing specialists.
If budget is your number one concern – but you want quality custom framing – we offer a Special Framing Package that includes one mat and your choice from our special selection of frames. As the selection is always being updated – we recommend your stopping in to see the choices.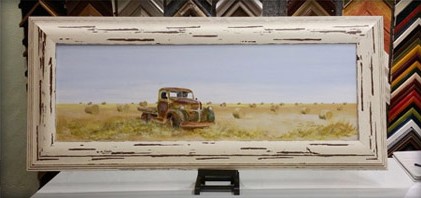 Framing Package
We offer quality framing in all price ranges. Are you feeling a budget crunch fighting with a desire to get something framed? No Problem! Just ask us about our framing specials.
Visit, call or text us (727-726-7411) to see what frames we have for this package.
Black – Gold – Silver – Woods – Ornate
Choices change regularly. Package includes one mat and regular glass.