Preserve Precious Memories
Our professionally trained Photo Restoration artists can expertly edit your images! From slight touch ups to complex manipulations, in turn making your photos absolutely perfect. However, we understand the level of quality that you deserve and expect, and we are committed to delivering beautiful images that you can enjoy everyday. Allow us to fix all the things that distract from the fond memories captured in your photo. Read more below about our retouching and restoration services. If you have any questions about what we can do with your favorite image, call today and one of our specialists will be able to help you right away.
You have the perfect photos from your beach wedding with one exception, that unknown guy in a speedo is in the background of each picture! No worries, we can fix that! Remove power lines, lose 10 pounds or 10 years from your appearance, or just enhance the beauty or quality of your most loved snapshots.
Want to see more ideas? Scroll below
Have Question? Call or Text us at 727-726-7411
Here is an example of a photo enhancement that we did for a client. Not everyone could attend the wedding – and the photographer took the family photo in the kitchen(!) which was not the ideal location.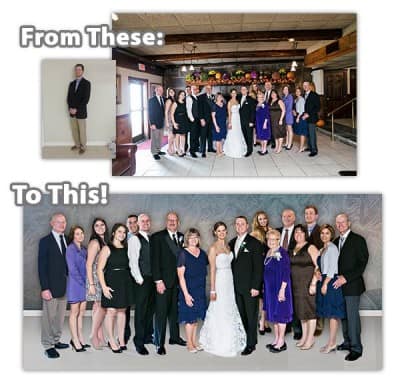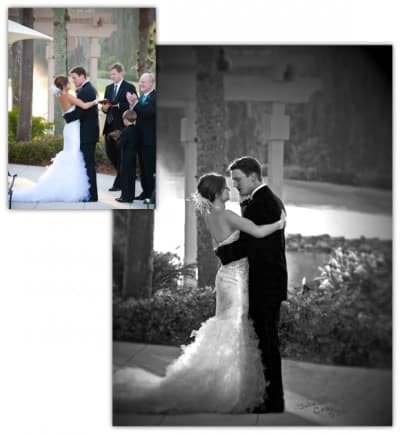 Here is another one – created as a first anniversary gift. The before image is already beautiful, but our client wanted her gift to really pop and also coordinate with the couple's decor. We decided to remove the other people, enhance the detail of the dress and add their names to the right corner of the picture. The photo looks sunning as a black and white and the couple was very happy to receive their gift.
Have old, torn or discolored photos? We're able to fix almost any damage to your favorite photos, thanks to our staff of highly trained digital photo retouchers. Not sure if we can handle the job?
Call us at 727-726-7411, send us an email, or fill out the form above to get started!
Note that we are able to do difficult digital captures of even frail photos.
Ready to get started?
Fill out the form above, and our professional designers will create a piece of art from your pictures – that will capture your memories or celebrate an important event.
We Would Love to Print Your Image!
Fill out the form below to get started today.