We will continue to add information here, but in the meantime, if you have questions just Call or Text us at 727-726-7411 or contact us here.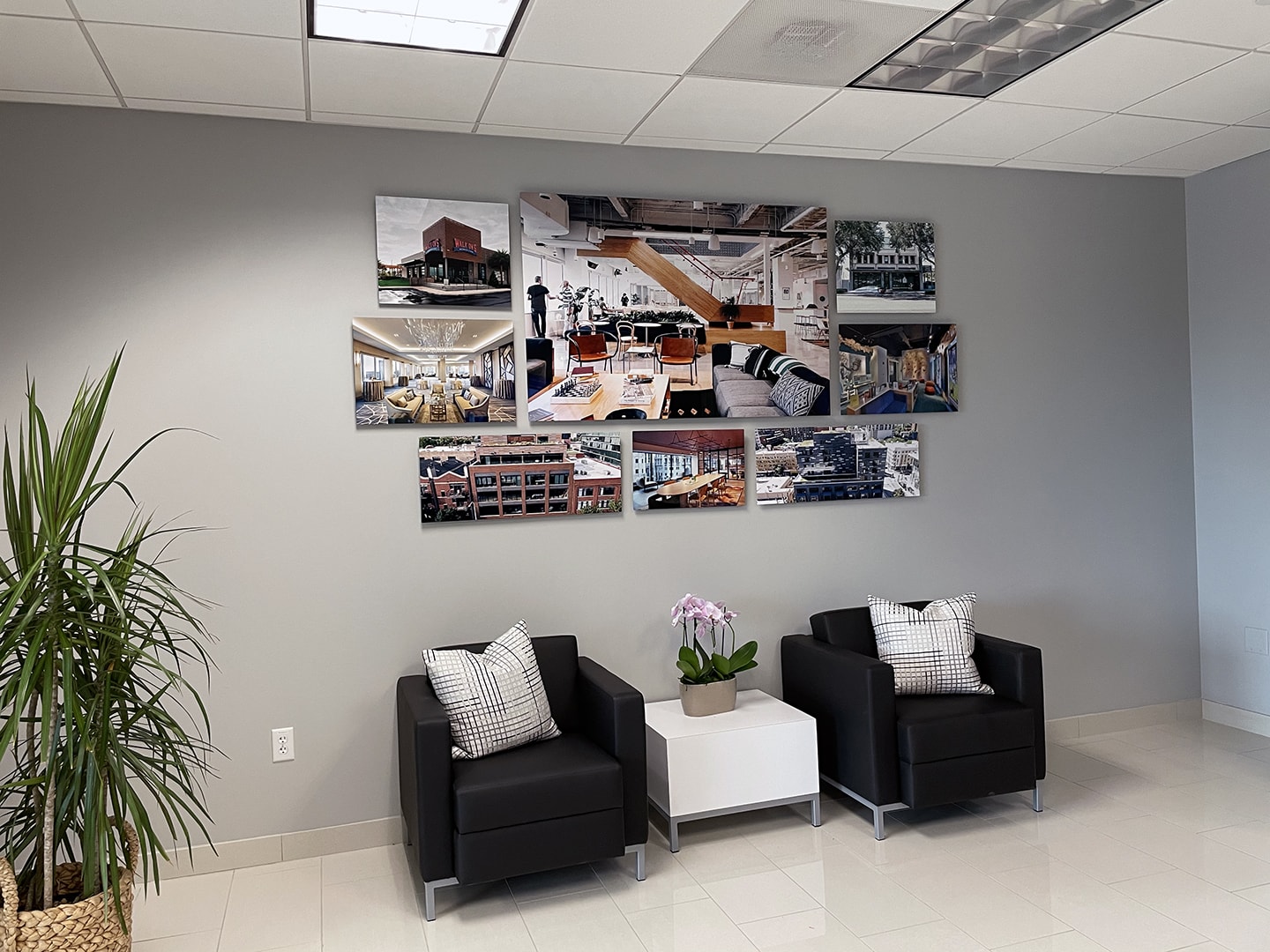 Art Framing for Corporate Spaces
Image Creations of Florida (ICF) a part of My Favorite Art Place is ready to assist you with your corporate framing needs, large or small. We can frame just one single piece to an entire location. Complete re-framing and repair services are available as well, as some artwork does not need to be replaced but just needs a refresher. We can provide the prints needed for framing too. We have a large selection of fine art prints that can be used in corporate / office spaces!
Corporate Services?
Working with corporate clients is a strong focus for My Favorite Art Place.
We are professionals at aligning a company's physical environment with its core values. Expressing their beliefs through artwork. Reinforcing your mission and message to your public and employees. In the end, it can strengthen brand loyalty and nurture employee engagement.
Art and branding art can play an integral role in communicating an organization's authenticity.
We add life to corporate spaces with custom size, custom color and spot-on artwork to support your branding, enhance workspaces and improve productivity. We can and will solve your art decorating problems.
Do you work with the Trade for framing?
ICF has been serving the design community since 1988. Interior designers, architects, decorators, artists, photographers and galleries choose to work with us because we deliver exceptional framing and customer service. We specialize in the 'difficult' to frame artwork.
We are sensitive to your project budget and will recommend appropriate art and framing so you are offering your clients unique and affordable design choices.
We also provide custom framed mirrors, framed designer bulletin boards, whiteboards, framed newspaper articles, and framing for all documents, blueprints, maps, and photographs.
How much will it cost to frame?
If budget is your number one concern – but you want quality custom framing – we offer a Special Framing Package that includes one mat and your choice from our special selection of frames. As the selection is always being updated – we recommend your stop in to see the choices. Some examples of pricing include:
Up to size……………Price
11″ x 14″……………$39.95
16″ x 20″……………$59.95
18″ x 24″……………$69.95
22″ x 28″……………$79.95
24″ x 36″……………$99.95
We'll always show you what we think works best with the art first. If it doesn't fit your budget, we can adjust the design. Keep in mind that you're going to be looking at this art for a long time. Going with what you really love can actually save money since you won't want to re-frame it down the road.
The cost can vary depending on the materials you choose to work with! If you bring in your work we will give you a free quote on a specific design. There is no cost to you to come into our shop and speak with one of our highly qualified framing specialists.
Based upon customer comments, our prices often are less than the large craft stores even AFTER their 50% off coupons.