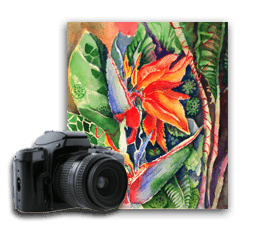 The first step to getting a photo, a painting, an old piece of artwork, a framed piece, etc. to be on canvas, is to take a digital capture. Once the image has been photographed with a professional quality camera, the image can then be worked with on a computer. We photograph artwork often for our artist clients, so they can print on canvas. We have a photo studio set up with pro lights, backdrops, etc. to be able to capture high resolution images.
Digital captures range from $65.00-85.00 depending on size. Larger paintings must be photographed in sections to create a file large enough to print the same size as the original.
Once the painting/image has been photographed- we then go through and color match the image the best we can. This can take up to 3-4 hours on certain images and there is no way to say how long color correcting will take on each painting. Colors react differently to the light they are being seen in and the colors they are immediately next to.
We will have the artist come and view printed proofs of their artwork once the color corrections have been done. Color can change depending on the material it is printed on, the color calibration of the monitor being used and color space.
Artists and painters have many uses for making reproductions of their artwork, unless they are digital artists. Most artists will want to sell the original for a high dollar amount, but would like to continue to make money on the same piece by selling limited edition prints or open edition prints. Some artists go about this the opposite way, keeping their originals and only selling limited or open edition prints. A digital capture lets the artist print high quality reproductions (fine art giclees) without giving up their original. We work with both scanners and digital cameras so we can handle pieces of any size without fear of damaging them.
Most modern photographers have long since switched to digital cameras, but long-time photographers often have old slides and negatives that they wish they had access to again. Our digital capture services include scanning slides and negatives. We offer full restoration and retouching in-house as well as custom size giclee printing on canvas or paper.
*We also capture old photos that are fragile and damaged, as the first step to being able to restore them is having a digital file to work with. Photographing an image, rather than scanning the picture, can hide scratching and/or creases that are present.
To the left you can see an image that has been captured and reprinted. You can see the quality of the original drawing is intact! We brought the image back to life!
Family archivists who want to use their photographic heritage don't need to worry about damaging the originals. We can process dozens of photos of any size. We can then burn them to a CD for you use at any time, possibly for printing on paper for cutting out and gluing, or even turned into collages on canvas.
If you have further questions about the digital capture process, please call us at 727-726-7411. We'll be happy to help you however we can.